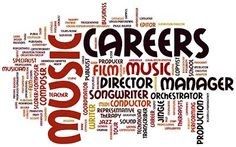 Hey, friend! Are you struggling trying to find out what career in music business you want? I found this great article from Berklee on the top 10 careers in the music business. I'm going to listen them below. Hope this helps!
1. Music Producer
2. Recording Engineer
3. Session Musician
4. Artist Manager
5. Tour Manager
6. Music Teacher
7. Booking Agent
8. Music Publicist
9. Composer
10. Music Arranger
If you'd like to dive deeper into these careers, check out the article from Berklee. 
Much Love, 
Peyton